9-12-15
Trip Details
Location: Near Loreto, Baja California Sur, Mexico
Herpers: Shawn Vought, Jason Nelson, Mike Pingleton, Jim Scharosch
Account by: Jim Scharosch
Photos by: Jim Scharosch
Matt and Joe met with the group of herpers that was working the nothern part of Baja California this morning for a trip out to Isla Tortuga. The rest of us were not in a mental place where we were ready for another boat ride and weren't really enjoying our stay in Santa Rosalia so we opted to spend the day driving back to Loreto. It was kinda nice having an afternoon to rest a bit by the pool and get our laundry done.
Matt and Joe were going to spend one more evening looking for geckos, so Shaun, Jason, Mike and I were going to cruise in Loreto. We took a break from tacos had pizza for dinner. It was surprisingly good.
The area around Loreto is really beautiful. It was my favorite habitat of the entire trip. Being there during the rainy season meant everything was green and the flowers were in bloom.
We saw a couple of Roadrunners out during the day, this was was nice enough to let us get close before it took off all roadrunner-like.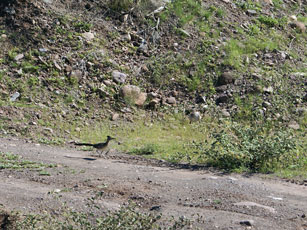 We headed out to cruise, and we decided we would alternate cruising the same ten mile stretch of road. It was fun meeting in the middle on each pass and letting the other car know what we found on that run. We saw a lot of stuff, but only photographed a few animals. Between the two cars we saw 25 baja california rattlesnakes, two adult and one juvenile mexican rosy boas, one adult red diamond rattlesnake, two night snakes, one thread snake and one leafnose snake.
The Red Diamond Rattlesnake (Crotalus ruber) was about three feet long.
It was nice finally seeing an adult ruber. It was really cool seeing the color change from head to tail. I will always remember this snake.
This adult Mexican Rosy Boa (Lichanura trivigata) was just under two feet long.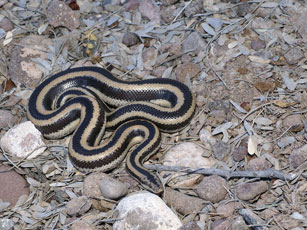 It had a darker cream background color than the juveniles we had seen thus far.
Here is one of the juveniles. We didn't photograph the second one.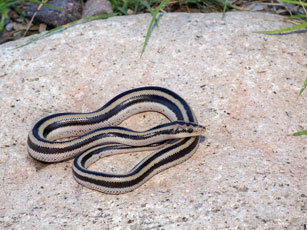 The Leafnose Snake (Phyllorhynchus decurtatus) was about eight inches long.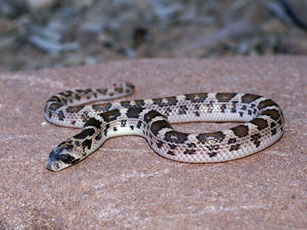 The thread snake managed to escape before we could get photos.
It was a really fun night with the snakes coming quickly.