9-14-15
Trip Details
Location: Loreto south to San Jose Del Cabo, Baja California Sur, Mexico
Herpers: Joe Ehrenberger, Matt Cage, Mike Pingleton, Jim Scharosch
Account by: Jim Scharosch
Photos by: Jim Scharosch
This was our last day in Baja California. We had a long drive ahead of us so we got out as early as we could in the morning and headed south to Los Cabos. We shot straight down to La Paz and there we split up with Matt and Joe. With the rain we had drive through, they wanted to take another shot at the mole lizards. Mike and I wanted to try to get to San Jose Del Cabo and get a hotel and have a few minutes down time before our last night of cruising.
We stopped at Carnitas Barajas, a roadside carnitas stand in La Paz for lunch. It was the first and only carnitas stop of the trip, and it was great. Tacos were 18 pesos, which equaled about a dollar each.
La Paz had been hit with a deluge and water ran over some of the low spots of the roads at over a foot deep. We had a "That's Mexico" moment when we passed a truck full of housewares and who knows what else.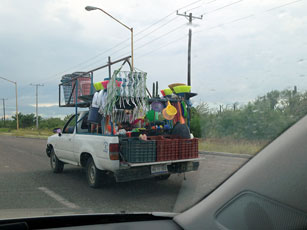 We stopped at an old mining town, El Triunfo to take a photo of the missionary there. It still functions as Parroquia de Nuestra Senora de Guadalupe.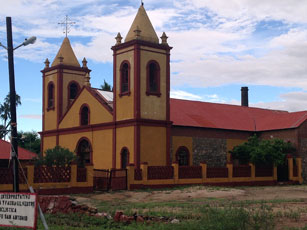 We drove thru a cool little village called San Bartolo. There was a painting of Our Lady of Guadalupe on the rock face on the way out of town.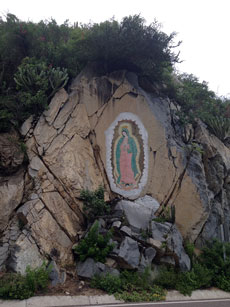 We rolled into San Jose Del Cabo with very little time before cruising time hit. The rains during the day had dropped the overall temperature, and more importantly, the surface temperature of the roads. We knew we had to get out quickly. We booked the rooms, dropped our stuff and basically hit the road. That was a bit difficult after spending the entire day driving, but it was our last night and we were determined to give it an effort. We did text Matt and Joe that we were planning on knocking of fairly early so we could drink a beer by the pool with them to wrap up the trip.
We wanted to hit the roads that we had hit during our first nights here. We cruised a couple of juvenile red diamond rattlesnakes early in the night and then things slowed for us. Matt and Joe had a lyre snake, a baja california rattlesnake and a red diamond rattlesnake. Mike and I decided we would start heading back, and on the last switchback of the last mountain on the way in I spotted a live snake on the road. I could tell it was a rattlesnake, but assumed it was another baja california rattlesnake or a red diamond rattlesnake. I was pretty happy to walk back and find a small adult Speckled Rattlesnake (Crotalus mitchelii).
It was just under two feet long. I loved how wide the white bands were in the "coontail" of this snake. While we were taking pics along the side of the road Matt and Joe rolled up and got to shoot photos too. It was a great way to end the trip.
It takes a long time to type up a ten day trip. It's a really nice day outside as I type this, probably one of the few left this fall in Iowa. It's always a struggle to get these done and it is a balance between getting it typed before I forget the details and putting it off until the weather sours and I have more time. That explains some of the hurried nature of my report. There were so many hilarious moments in this trip that remain untold. I had so much fun with the guys on this trip, so many laughs that cannot be captured in text because they were "you had to be there" moments. That said, I want to thank Mike, Matt, Joe, Shawn and Jason for being such great herping partners and traveling companions. I especially want to thank Matt for taking on the mostly thankless job of putting the trip together and keeping us somewhat on task. Also thanks for letting me join the trip in the first place! And most of all I want to thank Mike for inspiring me to step out of my comfort zone through his many trips abroad and for sending me that email asking me to join this trip.
It was probably the most fun I have ever had on a herp trip, and I am already plotting a return trip.