4-18-16
Trip Details
Location: Blackhawk County, Iowa
Weather: 60 degrees. Sunny, light winds.
Time: 5:30 p.m.
Herpers: Josh Otten, David Becker, Don Becker, Jim Scharosch
Account by: Jim Scharosch
75 degrees falling to 64, light breeze skys vary from sunny to overcast, light drizzle
I met up with Don and his son David and we drove up to Blackhawk County to meet up with Josh Otten. I have talked with Josh via email a lot over the years but we had never met in person. This was a prime bullsnake location, and we went in with high hopes.
Sometimes you see so many animals that telling the story gets to be ridiculous. This was one of those trips. I could say, "We found a bullsnake, then we found another, then we walked a while and found another…" but I think I will pass.
So I guess I will just give an overview and then a bunch of pictures. We ended up the day finding 13 Bullsnakes (Pituophis catenifer) in about two hours of herping. That's nuts. I haven't seen that many in a year in Iowa since I was a kid. The other theme of the day was that everyone but me was finding them. I spent a lot of my time trying to get photos, and clipping scales for DNA. I did flip a couple under some of the boards that were laid out, but I never did find one on the crawl. Out of the 13, I think eight or nine were out on the crawl.
Some of the pics are not very good, or are out of focus. After a while I quit trying very hard to get good pics. All shots are by me except the last head shot by Don. Obviously, the pics of me weren't shot by me either...
This last one had a very dark head for an Iowa bullsnake. Don took this shot for me.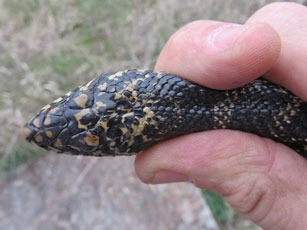 So it was a great day! I had a good time with Josh and was really glad I finally got to meet him. He told me he is a long time reader of Herpjournal, so that was also really cool to hear. I told Josh that this was one of those trips that I will always remember.