4-24-16
Trip Details
Location: Benton County, Iowa
Weather: 75 degrees, light breeze, sunny
Time: 11:30 a.m.
Herpers: Laura Scharosch, Jim Scharosch
Account and photos by: Jim Scharosch
It didn't take a lot of convincing, but I managed to talk my wife Laura into stopping at the timber rattlesnake den I had visited the day before on our way home from Kansas. We were going to get in and out quickly, just stopping at the easiest to check dens so we could get home at an earlier hour.
Just like yesterday's trip, we saw too much to go into a lot of details, so the overview is that we saw 22 Timber Rattlesnakes (Crotalus horridus) today. That is a crazy number of timbers, especially since we skipped a few den sites within the complex. We saw one racer on the crawl but no pics of that guy.
On the way down we flipped this Milk Snake (Lampropeltis triangulum) under a board.
Laura also found this Prairie Ringneck (Diadophis punctatus) on the crawl. That's not something that happens very often. It was a small one, about eight inches in length.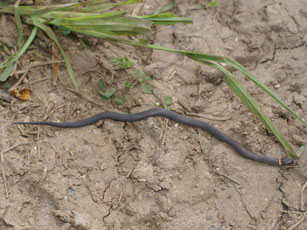 Here are some of the timbers…
It was a fun stop before the drive home. I was glad to be able to share this awesome place with Laura. Oh, the crap she puts up with…