4-25-16
Trip Details
Location: Blackhawk County, Iowa
Weather: 73 degrees, windy and clear skies
Time: 5:00 p.m.
Herpers: Jim Scharosch
Today I went back to the Blackhawk County bullsnake spot that I went to last week. Matt was going to come along today but had to cancel. The weather forecast showed a cool down coming, so I wanted to get out a few times before that occured.
This area had half of the prairie burned this spring. I focused on the portion that had not been burned. I walked about ten minutes and found my first Bullsnake (Pituophis catenifer) of the day on the crawl.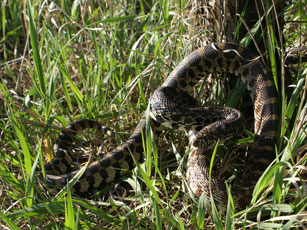 It went into full threat display mode. It was around four feet long.
I walked the entire grassy portion of the prairie and flipped the boards that had been laid out and didn't see another bullsnake. This was in a spot where we had found thirteen one week earlier, with most coming on this portion of the site. I was a bit bummed out. I decided to walk the burned area a bit. I walked the full length without seeing anything, and I looped back towards my truck. As soon as I turned the corner, I found a young bullsnake on the crawl.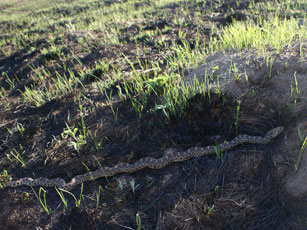 It was about two feet in length.
With the late afternoon sun casting long shadows, the next bullsnake was seen glowing on the dark ground from a twenty feet away.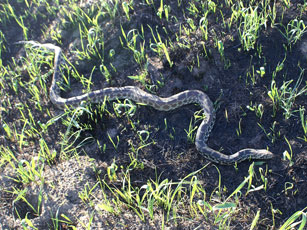 It was a four foot adult that sat for a while then crawled directly to an entrance to a mammal burrow and disappeared. It was pretty cool to see.
The next one was a similar experience to the previous, a big glowing bullsnake that was unmistakable from a long distance.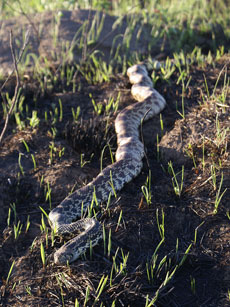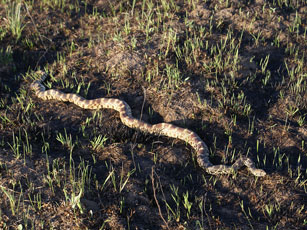 This one was larger than the last, probably a bit over five feet long. It was also the prettiest of the day, with lighter coloration than the other three.
That was it for the day. It started off slowly, but ended with a bang. If you would have told me that I would have a four bullsnake day this spring I would have signed on without hesitation. So even though it didn't come close to matching last weeks total, it was still and awesome stop.