4-26-16
Trip Details
Location: Linn and Benton Counties, Iowa
Weather: 60 degrees, windy, clear skies
Time: 4:30 p.m.
Herpers: Jim Scharosch
Rain and cold was in the forecast for the next few days. I needed to get the lawn mowed, but since this last warm day before the cool down the herps were calling and I can mow the lawn in the dark...
As soon as I got home from work I took off for a local spot that I visit often in the early spring. I had already been there a few times this year and was still waiting for the milksnakes to make their first appearance. A few rock turns and my first Racer (Coluber constrictor) in Iowa this year turned up.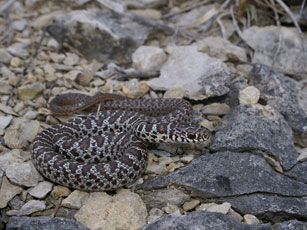 It was a last year's baby and showed the juvenile coloration.
Next came two last year's baby Fox Snakes (Pantherophis vulpinus) under a single rock.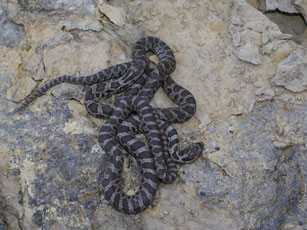 Next was another double, a Northern Watersnake (Nerodia sipedon) and my first Milksnake (Lampropeltis triangulum) in Iowa this year.
Soon came another milksnake, this one had really small blotches and was very pretty for this part of Iowa. It was about fourteen inches in length.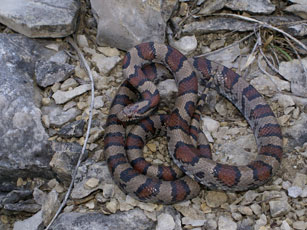 Then came a last year's baby milksnake. It was about seven inches long.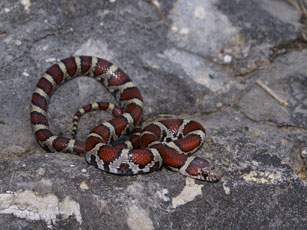 Further up the hill I found another northern watersnake.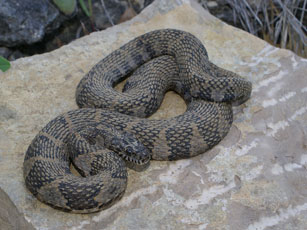 Not far from there was a last year's baby Ribbon Snake (Thamnophis proximus).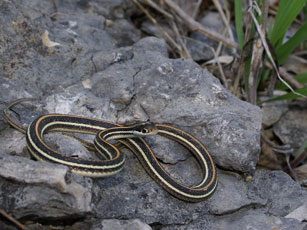 This site has become pretty good for turning up ribbon snakes. It is a bit strange since I didn't see any the first few years I came here and since I found the first one two years ago they are starting to show up fairly commonly.
I found another milksnake in an area where I don't normally see them at this site. The snake did not want to sit for photos at all. It was about sixteen inches long.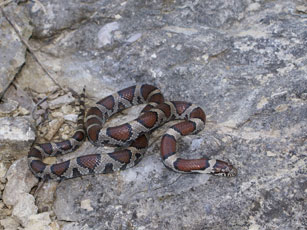 I stopped at a nearby rockpile. I haven't found much at this site, but I know it will pay off sometime. Today it held only one snake, another juvenile fox snake.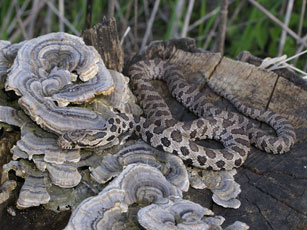 This probably won't be the last time I pose a snake on this fungus covered stump. At this point I realized I had five species on my slightly over an hour of herping. I thought that if I could turn up a garter and a brown snake I could get to seven species. The temps were falling, but I stopped at one more small roadside den site that I visit often. A few rocks in and I had my sixth species of the day, an Eastern Gartersnake (Thamnopis sirtalis).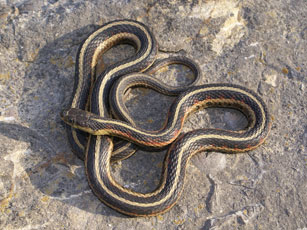 I flipped a lot of small rocks and ended up with another juvenile fox snake.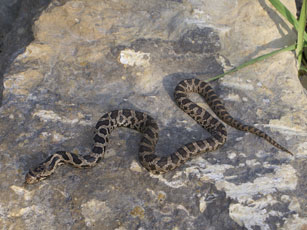 I didn't find a brown snake so I was stuck at six species. It was a fun little trip out and I got the milk snakes started for the year.