5-29-16
Trip Details
Location: Jackson County, IA
Weather: Partly cloudy, 73 degrees, light winds
Time: 2:30 pm
Herpers: Don Becker, Jim Scharosch
Account by: Jim Scharosch
Photos by: Jim Scharosch
Don and I got out to a spot I like to visit once or twice a year in Jackson county. This area has a very active rat snake den, though we didn't visit it today, and also a timber rattlesnake den. The rattlesnake population here doesn't seem to be doing very well. Many years ago you could count on seeing a timber on pretty much every trip here. Back in 2001 we had a day where we found seven, which is pretty good for Iowa. Things started to taper off a bit about 7 years ago, and we went a couple of years without seeing any timbers at all.
Last spring we stopped here and found a nice adult timber that had dispersed from the den quite early. That was a hopeful sign for us. When I visited earlier this spring I didn't see any timbers at all near the den. I wasn't too hopeful, since we were well past dispersal time and the plants were already growing in fairly thick, making it difficult to see snakes on the ground.
Pardon the cell phone photos, I didn't feel like carrying my real camera.
Early on we found a Milk Snake (Lampropeltis triangulum).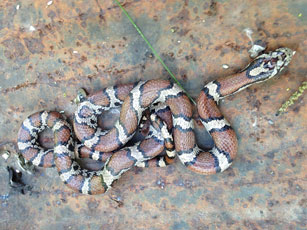 It was typical of the milks we find in this area, dark red on gray with small saddles. It was around twenty inches long.
We found another milk, this one deep in a really messy shed.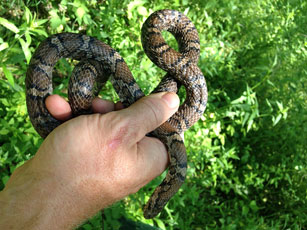 It was larger than the previous snake as well.
Don got fairly excited as he nearly put his hand onto this Timber Rattlesnake (Crotalus horridus) that lay neatly coiled near some large rocks.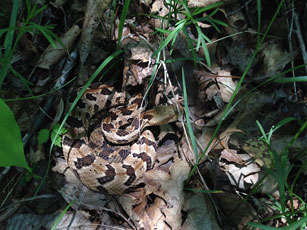 It was just under two feet long. We grabbed some quick in-situ shots then chased it under a large rock when it went to crawl off. It was very nice to see this smaller timber, because as a two or three year old snake it shows that there is still some successful breeding going on at this site. It was also a very pretty timiber, with a typical northeastern Iowa gold background color.
That was it. It was a low snake count for the day, but we didn't want to flip many rocks and conditions weren't great. The young timber at this site made the trip worthwhile.