9-05-16
Trip Details
Location: Los Cabos and La Paz areas, Baja California Sur, Mexico
Weather: High of 95
Herpers: Dāv Kaufman, Jeff LeClere and Jim Scharosch
Account by: Jim Scharosch
Photos by: Jim Scharosch
Today was the day we were heading to La Paz. We decided to make a stop back at the river to see if we could find an adult garter snake. So after breakfast we headed out.
The river valley area was very different than the day before. Sunday's crowds had given way to Monday where we had the place to ourselves.
Jeff and Dāv took some time to photograph lizards and I wandered off to try and catch an adult garter snake.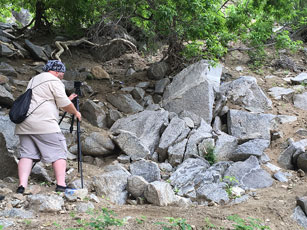 I spotted this adult Cape Garter Snake (Thamnophis validus) peeking his head up out of the water.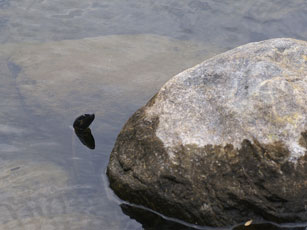 I somehow managed to snag it for photos on land.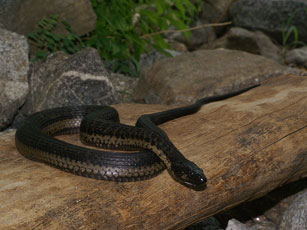 It was nice to see an adult after only seeing babies the day before.
We headed off to La Paz. During check in at the hotel, they handed us a paper explaining that a hurricane was headed our way. Being a bit on the clueless side, we didn't think much of it. We dropped off our stuff and drove down to where we hoped to find the five-toed worm lizard, something I had missed out on finding last year. We checked a few spots without any luck, knowing that our odds of finding them in the heat of the day were near zero. While we were walking around, Dāv ran into an American who lived in the area. We were talking to him and he told us that the incoming hurricane was a big deal. He told us the town would lose power for days, water tainted with sewage would run through the streets and roads would wash out. He told us we would be stranded here for days as the road north had a lot of construction going on and the roads that bypass the construction would wash out. This was all pretty sobering for us. We decided to grab some food and water in case things got bad and went back to the hotel.
The skies showed no sign of what was coming, as you can see from the photo I took from the roof of the building that evening.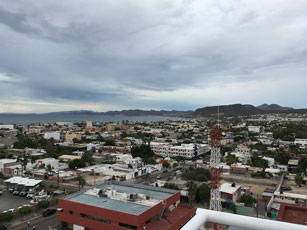 We were sitting in the room and the phone rang. They asked us to come downstairs for a situation update. We were greeted by the boarded up front doors.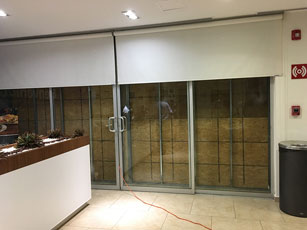 The hotel manager gave a twenty minute update, all in Spanish. Dāv tried to follow along, but his limited Spanish couldn't quite keep up. Thankfully the manager spoke enough English to give us the short version of the update. The hotel had a generator and had plenty of food and water to get us through the storm. They were locking down the hotel and asked us all to stay in our rooms until the storm passed.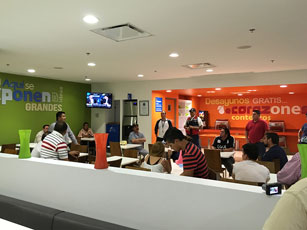 Needless to say we cancelled our road cruising for the evening.