11-09-16
Trip Details
Location: Jackson County, Iowa
Weather: 55 degrees, sunny and no wind
Time: 1:00 p.m.
Herpers: Jim Scharosch
Account by: Jim Scharosch
Photos by: Jim Scharosch
Okay, I swear this is my last post...
I went to the site in Jackson county Iowa where we did a lot of habitat and survey work this year. I had to pick up some equipment and with how late it was in the year and the recent cool temps I had no expectation of seeing any snakes out. I arrived at the southern den location and took a quick look towards the den entrance. With my low expectations I barely even looked at the den. I gathered up the things I had come to pick up and for some reason decided to take one more look at the den. I went closer and was surprised to see a large Timber Rattlesnake (Crotalus horridus) coiled in the crevice.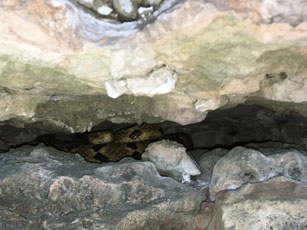 I only had my phone for photos as I had decided it wasn't worth hauling my camera along. I nearly didn't even bring my phone with me. The snake was probably in the three foot long range.
With this find I was excited to check the north den, since it is more exposed to the sun than the south den. Nothing was out there though, and I thought it was kinda funny that I was suprised not to see a snake out on November 9th in Iowa.
Pretty cool to see a timber this late in the year, especially on what really amounted to an errand, not a herp trip.