5-6-17
Trip Details
Location: Benton, Linn and Buchanan Counties, Iowa
Weather: Clear sky, windy, high around 70 degrees
Time: 9:30 am through 5:00 pm
Herpers: John Sullivan, Matt Cage, Mike Pingleton, Don Becker, Laura and Jim Scharosch
Account by: Jim Scharosch
Iowa isn't really a "destination" herping spot. We don't get a lot of out of state herpers coming to Iowa to find specific animals. Sometimes I hear of people coming to Madison County to find the milksnakes and timbers that reside in that island of habitat, but generally that's about the extent of it. Over the years I have had a few people mention to me a desire to see Iowa's only truly iconic snake, the fox snake. Fox snakes range across the upper midwest and are very common in Iowa. Since so few herpers come north to herp, the common fox snake is missing from a lot of herpers life lists.
I had spent time with Matt Cage on a trip to Baja California back in 2015. Matt reached out to me late in the winter to ask about seeing fox snakes. I told him if he came up to Iowa, we would find fox snakes, so he made plans to swing up during a trip to Kansas he was making in early May. He was joined by John Sullivan and my old friend Mike Pingleton. Now we had to produce fox snakes.
I'm not going to go into a lot of detail of what we found and when. We started off in Benton County, then went to a number of sites in Linn County and then closed out the day in Buchanan County. The pressure to find a fox snake was off about three minutes into our first stop of the day, when Matt found one under a rock.
All told we found fifty-nine snakes. We had eight milksnakes, eight fox snakes, nine northern water snakes, six brown snakes and twenty-eight common garter snakes.
I have made many out of state trips where people have been kind enough to show me around, so it was fun being on the other side of a trip like this. I enjoyed seeing people that were really happy to see the snakes I get to see all the time. Don, Laura and I had a lot of fun hanging out with the Matt, John and Mike. It was nice to see old friends, and it was great to meet John.
The photos for this post will be different than any other herpjournal post. I decided to have our out of state guest herpers handle all the shots of the critters while Laura and I shot mostly "herpers herping" shots. They are broken down by photographer and are in no particular order.
Jim and Laura's photos:
Matt Cage's Photos: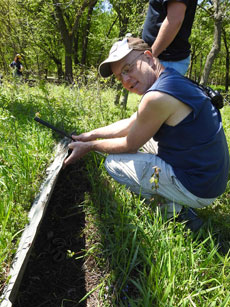 John Sullivan's Photos: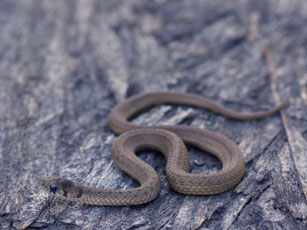 Mike Pingleton's photos:
I doubt this will lead to a flood of tourists coming in to Iowa to see fox snakes, but you never know...