9-23-17
Trip Details
Location: Jackson County, Iowa
Weather: High of 90 degrees, sunny, light wind
Time: 9:45 a.m.
Herpers: Don Becker, Jim Scharosch & Matt Ricklefs
Account by: Matt Ricklefs
Photos by: Jim Scharosch except where noted
As part of our habitat restoration projects we had an area on public land that we wanted to target. Don was able to acquire the necessary authorization and permit to use power tools at this area and we needed to go up before the freeze to make sure that the trees we cut could be chemically treated to not come back. It seems quite silly to be talking about worrying about the eventual freeze when it's 90 degrees out, but here we were!
This is an area where we find a number of species, but Timber Rattlesnakes (Crotalus horridus) are the "primary" find here. The population numbers are questionable, but it is definitely worth helping out the habitat in general. We plan to monitor this more closely and also do a little more work. We hope that in time we will see the fruits of our labor pay off. And labor it was. It was HOT out there, cutting, moving and then treating tree stumps.
We had said that we would keep our eyes out and herp as we worked. So when Don was using the brush/tree cutter and yelled "TIMBER, TIMBER, TIMBER!" it wasn't until the third "timber" that I realized he was talking about a Timber Rattlesnake and not just letting us know that a larger than usual tree was falling close to the area we were by.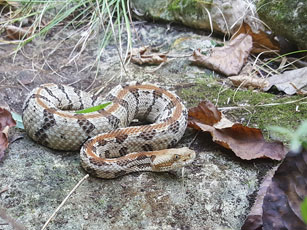 Photo by Don Becker
It was a small one, about 17 inches long, but a VERY welcome find. Since we had found a few each of the past couple years, we didn't need to see one to know they were still there and to give us an added amount of energy to continue, but it sure helped. It was out on the crawl. I had brought my tongs just I case we DID need to move someone out of our way, but of course they were a ways away. After a bit of stick coaxing to get it to pause, it settled for at least long enough to get some pics and a short video.
Jim's phone was so sweaty the touchscreen was not responding as usual. But he persevered. We allowed it to go on its wayand we kept working. It was a welcome break.
Not long after, Don spooked up another herp, a Spring Peeper (Pseudacris crucifer).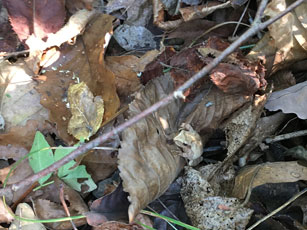 I had not seen one in quite a while so I was pretty excited to see it. For a tan and cream colored frog they are quite pretty. There are a lot of other frogs with a lot more color, but there is something about Peepers (at least for me) that I really find beautiful...and pretty cute. COME ON - their name is PEEPER. How much more cute can that be? :)
We continued to work until late in the day, but succeeded in clearing the area that we had intended. We couldn't take a "before" shot as from the ground it would just look like trees in front of you, but we did take an "after" shot and in it, you will note that the whole area you can see was covered with small trees, shrubbery, thorns, etc.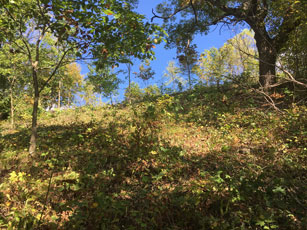 This is a primary area for Timbers that we have found in the past. It will certainly help that this is opened back up the way it was years ago. Jim and I had cleared a part of this before once, by hand, but without treating, it grew back in worse than it had been before we cut it. That's why this time we tried to hit every stump with Tordon to keep them from resprouting.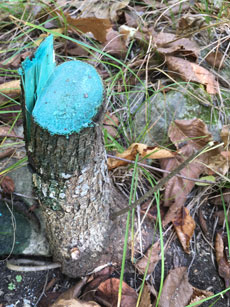 I thought to myself that it would be nice to come back in the fall and see if it has impacted anybody's movements this year, then I remembered the date and for Iowa it was into fall. That's what happens when you do this late in the year, but it still feels like summer. We did a quick scout of what we needed to do next. Like some of the rocks I checked (this is more of a look under rocks than in crevice spots) Jim had a few he needed to check also. And wadda ya know, he came up with a nice Milk Snake (Lampropeltis triangulum).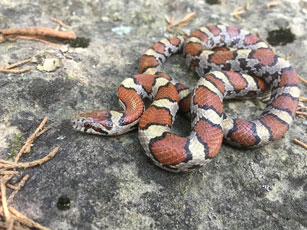 It was about 16 inches long. That was it for the day. We were due a well-deserved rest, some food and a soda/beer!
Observe, Conserve, Maintain and Preserve!
More happy summer autumn herpin'!