10-18-17
Trip Details
Location: Jackson County, Iowa
Weather: 71 degrees, clear sky, breezy
Time: 4:30 p.m. 
Herpers: Jim Scharosch
Account by: Jim Scharosch
Photos by: Jim Scharosch
I stopped out to our timber site in Jackson County, Iowa. As much as I enjoy herping with friends, it is sometimes nice to get out by myself. It's getting late in the year and there aren't a lot of days left to get out and see stuff, so it seemed like a good chance to close out the year seeing some timbers. Often these late season warm spells turn into days with big numbers of timbers staging around the den site, but it wasn't to be this time.
This site consists of three different dens that we know of, and I started off at the south den. This was the first den we discovered at the site, and it is also the least populated with timbers from what we have been able to discern. I didn't see any timbers at the den, which surprised me a little.
The north den was also slow. I checked the the primary part of the den and found no timbers, even deep in crevices. There is a large tin on the top of the bluff where we have seen nothing but garter snakes so far. Today that changed as I found an adult Milksnake (Lampropeltis triangulum) there.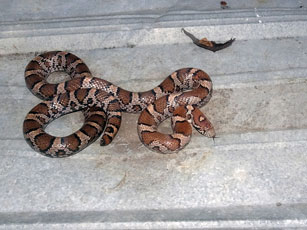 It had a stump tail and didn't really want to pose for photos. I also was hurrying to get to all of the timber sites before it got any colder, so I didn't spend much time taking photos.
I circled back around to the lower part of the north den and under a large shelf found a Timber Rattlesnake (Crotalus horridus) back in a crevice.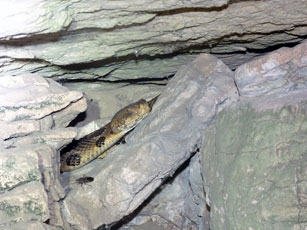 It was a good sized timber, I would estimate it at around three feet in length. It didn't seem to be bothered by my flashlight and camera flash at all as it sat in it's hiding place and watched me.
I moved on to the west den, which we discovered just this spring. We had a good day here a few weeks ago and even though the other two dens had been slow today I was holding out hope that this one would pay off. Long story short, it didn't. I checked all the crevices and the den opening and didn't see anything at all.
Since I was passing right by them, I stopped below the den to check some rocks where we often find milksnakes. Early this year we found our first timber at this under one of these rocks. A couple rocks in and I flipped a "double", an adult milksnake and a young adult timber rattlesnake under the same rock! I don't think I have ever done that before with these two species.
I didn't mess with the snakes much, just moved them to put the rock back down then chased them back under the rock. I didn't see any need to pose them for better photos.
As I was leaving I found a this year's baby milksnake under a nearby rock.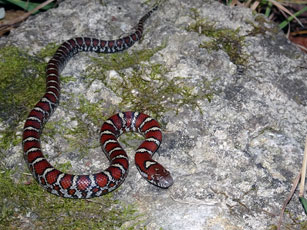 He may be the last snake of the year because cold weather is in the forecast. It wasn't the huge day I was hoping for, but seeing a couple timbers and milks and getting the double made it well worth the drive.