10-27-14
Trip Details
Location: Buchanan County, IA
Weather: 68 degrees and cloudy.
Time: 4:30 p.m.
Herpers: Jim Scharosch
Account by: Jim Scharosch
Photos by: Jim Scharosch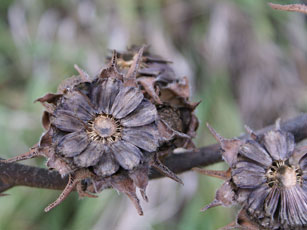 I thought my trip on 10/16 would be the last of the year, but when it was almost 70 degrees after work today I thought I should give it another shot. Forecast calls for a 20 degree drop tomorrow and continuing on this week so I didn't want to miss out on what will probably be the last warm day this fall. So I got home and then took off as quickly as I could to a nearby spot. This is another spot that I often check in the spring. This year I was there in late May. It often pays off with decent numbers of juvenile fox snakes and the occasional milk snake.
I checked the best parts of the hillside and didn't see anything. I was beginning to think that maybe the snakes were anticipating the weather change and were already holed up in the denning areas below ground. I changed my mind when I turned a rock and found an eastern garter snake and four juvenile Fox Snakes (Elaphe vulpina).
The garter snake got away while I was trying to make sure to snag all of the fox snakes. They were babies from this season, which is always nice to see as it means there was a successful hatch of fox snakes at this site again this year.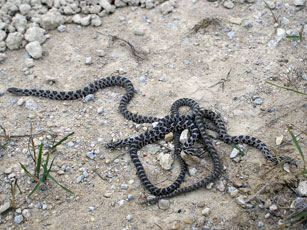 Soon after that I found a Milk Snake (Lampropeltis triangulum).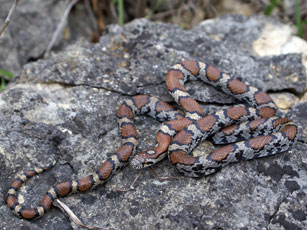 It was a typical eastern Iowa milk snake in coloration, and it was about eighteen inches in length.
Next were a couple of Eastern Garter Snakes (Thamnophis sirtalis).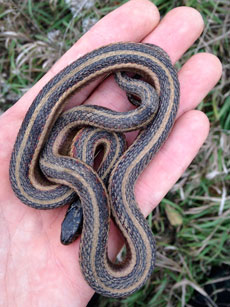 The first one was very dirty from crawling around in the rocks and dirt of the den area.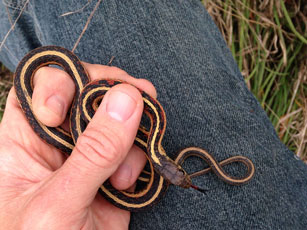 The second one was much cleaner.
That was it for this area. I stopped at another small rocky area a couple hundred yards up the road where I had found a fox snake last year, and it paid off again this year.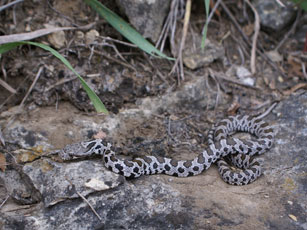 I hoped to get a nice photo of this guy, but it just wouldn't sit still and I didn't want to mess with it too much right before it headed into hibernation. Like the others, it was a baby from this year.
That was it for this last warm day of the season. Glad I got out one last time and I'm already looking forward to next year!